Regular price
$4,450.00 USD
Regular price
Sale price
$4,450.00 USD
Unit price
per
Sale
Sold out
Our fine collection of handmade conference tables are made from old-growth live edge wood slabs, sustainably sourced from the Treasure Valley. Storied woods are crafted into functional pieces of art with EcoPoxy™, the most eco-friendly epoxy resin on the market. 
All of our conference tables are equipped with a hand assembled and mounted Up-Lift desk frame to allow for full sit / stand operation conveniently via a small touch panel mounted in the corner of the desk.
All of these things combined have helped us to offer one of the cleanest working aesthetic office desks solutions in the world.

Our tech option pricing includes custom wire management and carful mounting of the components alongside quality control testing of all the components by our in-house tech team. We have a full suite of world class conference room tech automation options available. From passive flip-tops and cable passthroughs to fully automated video conference and scheduling systems.
https://www.crestron.com/Products/Featured-Solutions/Crestron-Fliptops
https://www.crestron.com/Products/Featured-Solutions/Digital-Workplace
https://www.crestron.com/Products/Featured-Solutions/Crestron-One
https://www.crestron.com/Products/Featured-Solutions/TSW-70-Series
Additional Options:
Each additional 6" width increase costs $500

Each additional 12" length increase costs $500

Live edges on outside long edge cost $800 and up

Islands in the river, or a small cluster of islands, costs $250 each

96" to 120" long table - upgrades leg to a 2" x 4" tube steel and costs $400

120" long plus - upgrades leg to a 2" x 6" tube steel and costs $700

Upgrading to wood legs costs $850

Upgrading to a custom leg style or base - custom pricing required

Underlighting the table with LED's is an option, costs start at $3000

Leaf extensions are an option, additional costs start at $1850

Local residents who want to participate in the pour costs $300

Delivery in the Treasure Valley (within 30min of shop) costs $250

Shipping nationally typically costs $500-$1000 depending on distance
There is also a drop-down option for a custom epoxy river color. Custom colors are included in the price and do not cost extra. If the color you desire is not listed, simply select "other" and then specify the color you desire at checkout.
Any options listed above that are not automatically added to the prices in the drop-down menu can be requested at checkout or via post-checkout communication. We can send a separate invoice for the difference in price for features such as islands, wood legs, custom shaped legs or shipping.
All our table legs are attached to the base of your table using brass, threaded inserts and heavy duty bolts. You are able to disconnect the legs in the future if needed.
We optimize the placement of the legs for comfortably seating as many guests as possible. Standard rule-of-thumb is to allow 22" for each chair along the length of the table. 

Additional leg styles are available such as waterfall legs, tapered legs, X-shaped legs, Z-shaper legs, hourglass shaped legs etc., and all cost an additional fee and as noted above, should use thicker steel as the length of the table increases as described above. If you desire custom legs, please put a note in the memo when checking out.

All our tables are finished with Osmo hard wax oil. It is plant based and eco-friendly. There are no VOC's or harmful chemicals in the Osmo product line, and all the finishes are food safe and very durable. Osmo simulates the durability of a polyurethane but without the toxins and absorbs deeply into the wood so you can still feel the actual wood grains along the surface of your table. The surface will be water-resistant and resistant to stains and can be cleaned with soap and water or a hard wax oil cleaner.

Maintenance of your table is very easy and we provide a free maintenance kit with each desk. It comes with a cleaning solution designed for hard wax oil finishes (linked above) and and extra can of oil that can be used to touch up the surface if ever needed in the future.
Table tops can be made without legs if desired. This would allow you to use whatever legs or base you choose and install it yourself. A reduction in price is available if you go this route. Alternatively, you can purchase a base and ship it to us and we will install the table top for a fee. The fee would be determined once the complexity of the installation is assessed by us. 
Pictured to the left, are examples of custom tables made for previous clients. 

TREE TO TABLE SUSTAINABLE: 
From "tree to table," everything we do and produce is based on a sustainable, eco-friendly and community ethos. Each piece has a story - from the wood growing up strong in local properties, to our friend + family team and the careful sourcing of non-toxic materials and finishes. We craft with respect for history, modern sustainable practices and heirloom quality so that you can enjoy your one-of-a-kind piece for a lifetime. 

ECO-FRIENDLY EPOXY RESIN & NON-TOXIC FINISHES: 
We exclusively use EcoPoxy Flowcast for our river tables. EcoPoxy has a high bio-content and is the most eco-friendly and non-toxic deep pour epoxy resin on the market. 

There is no off-gassing of our products. They are allergy-friendly and are generally safe for people with multiple chemical sensitivities. 

SHIPPING: 
We ship our tables all around the world and will work with a freight broker to find the best LTL rates and price for you. We build a custom crate for your table and carefully pack it for long-haul freight travel. Please contact us with your custom specs and address and we can obtain a shipping quote for you.

Local delivery within the Treasure Valley, Idaho costs $250 within 30 minutes of our shop in Eagle.
Share
Note:
Customizable listings are generally used for price guides or initial orders. Images are examples of past products that we've made for customers. Not all custom options may be shown. To further customize your piece after purchase, reach out to us for details. To design from scratch, use our Design Tool.
Design your Project →
View full details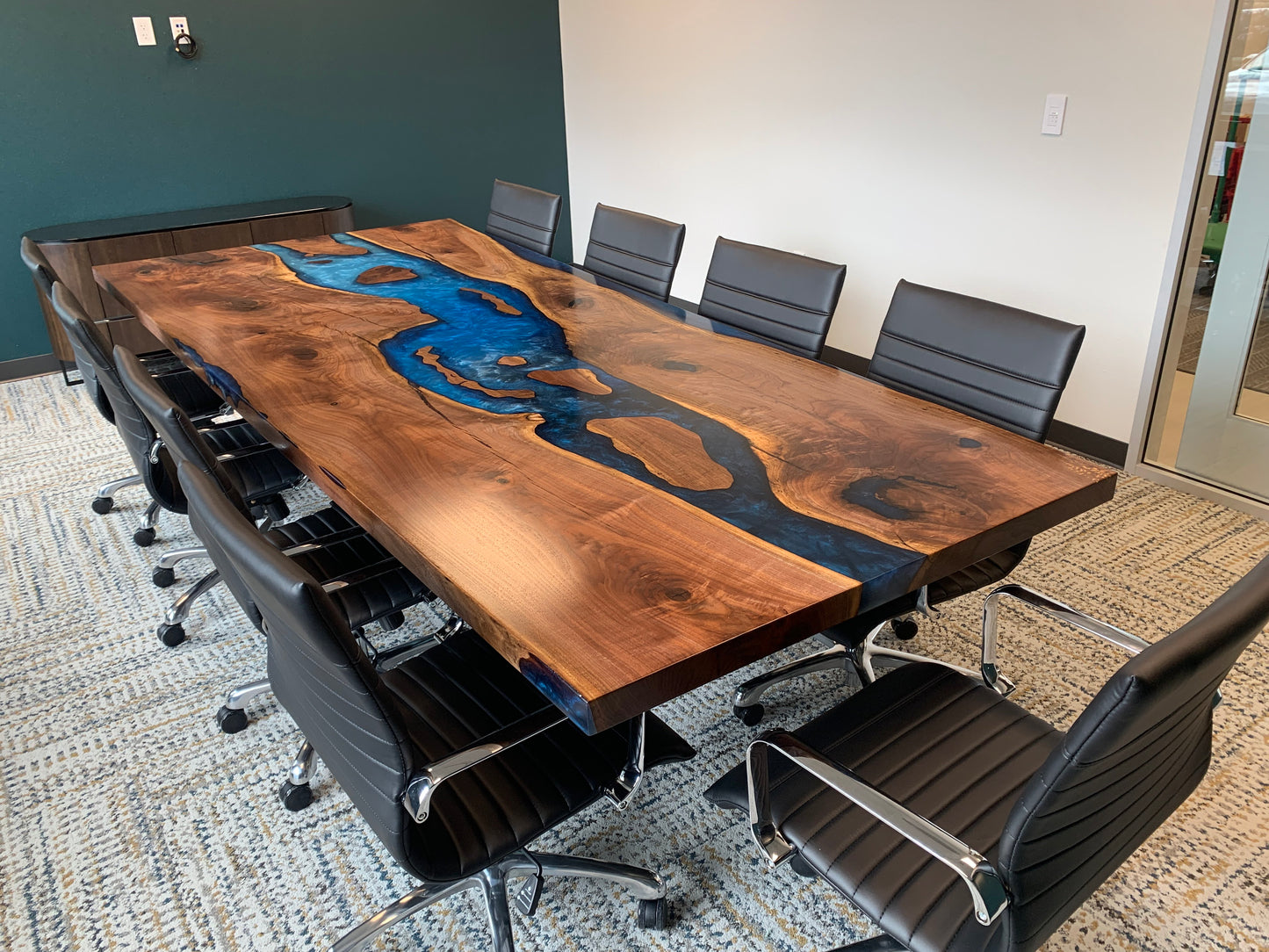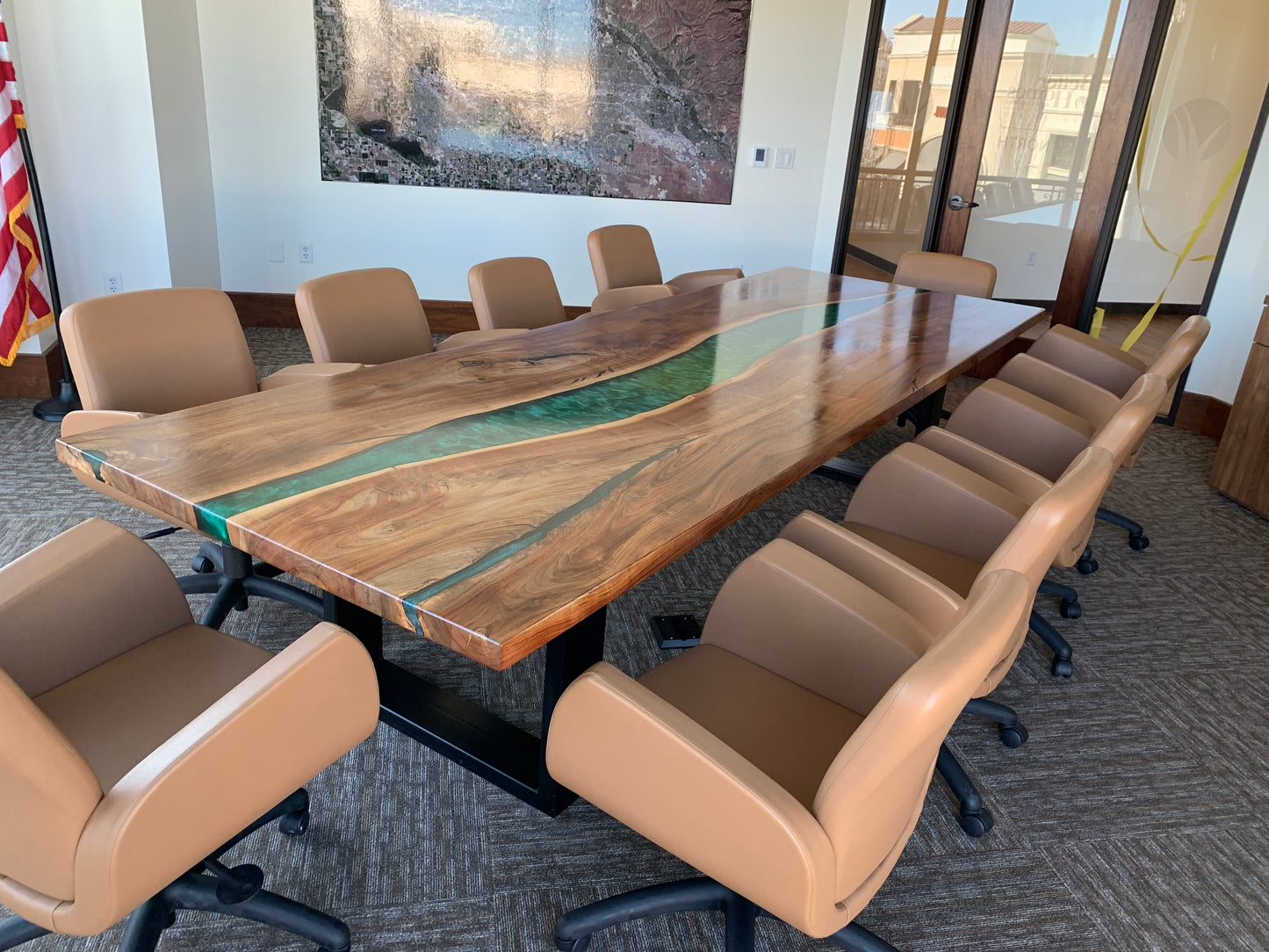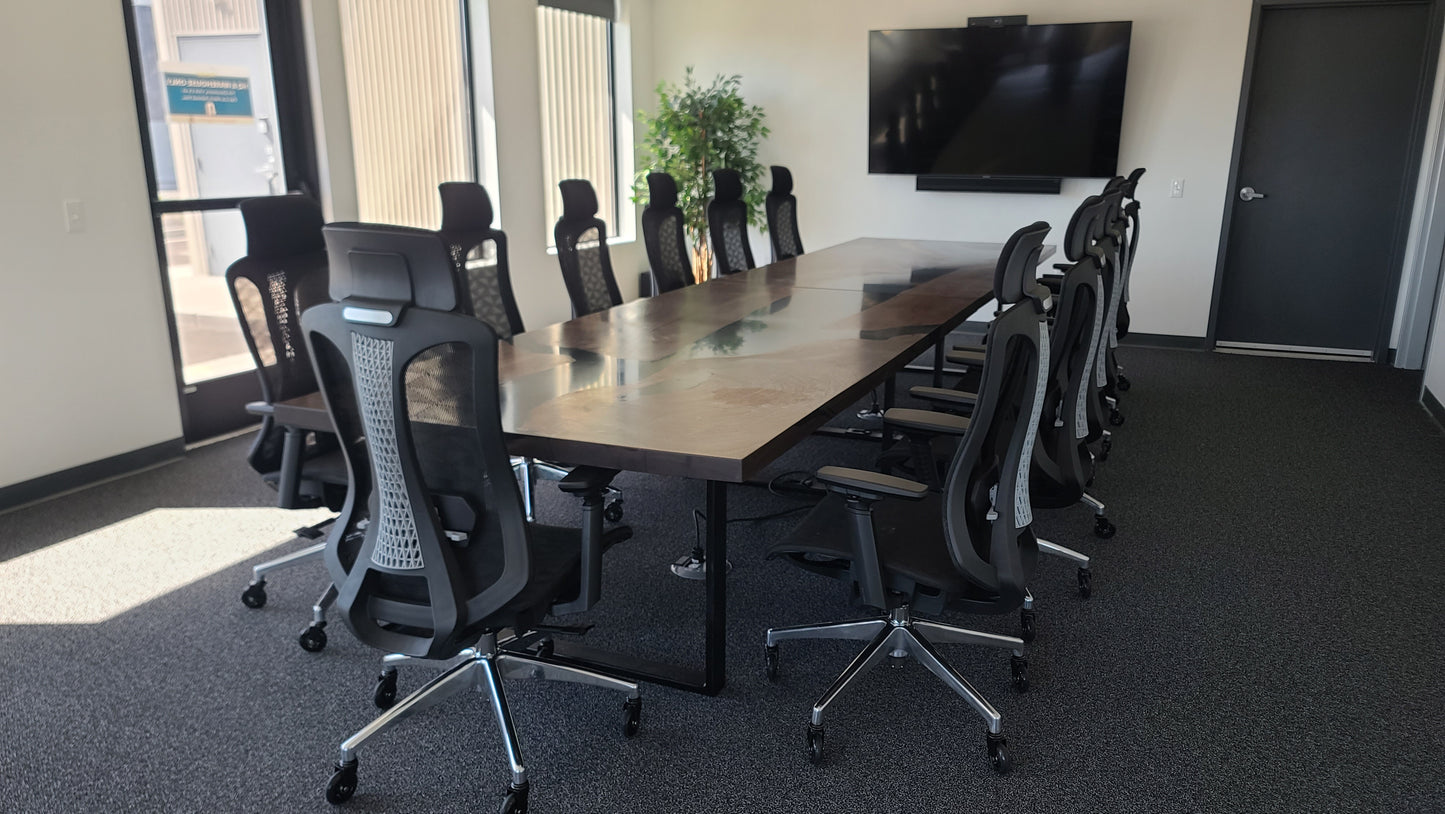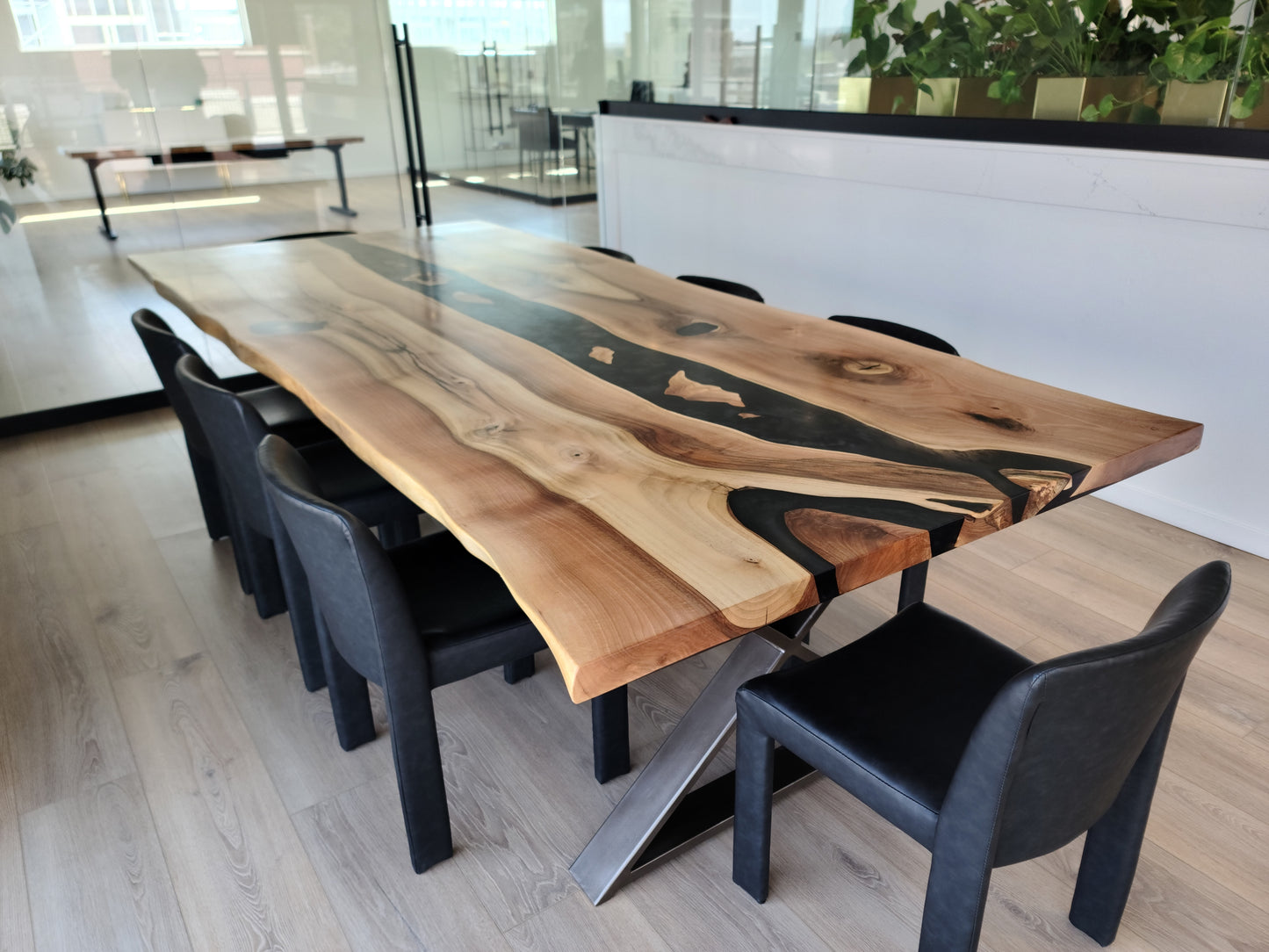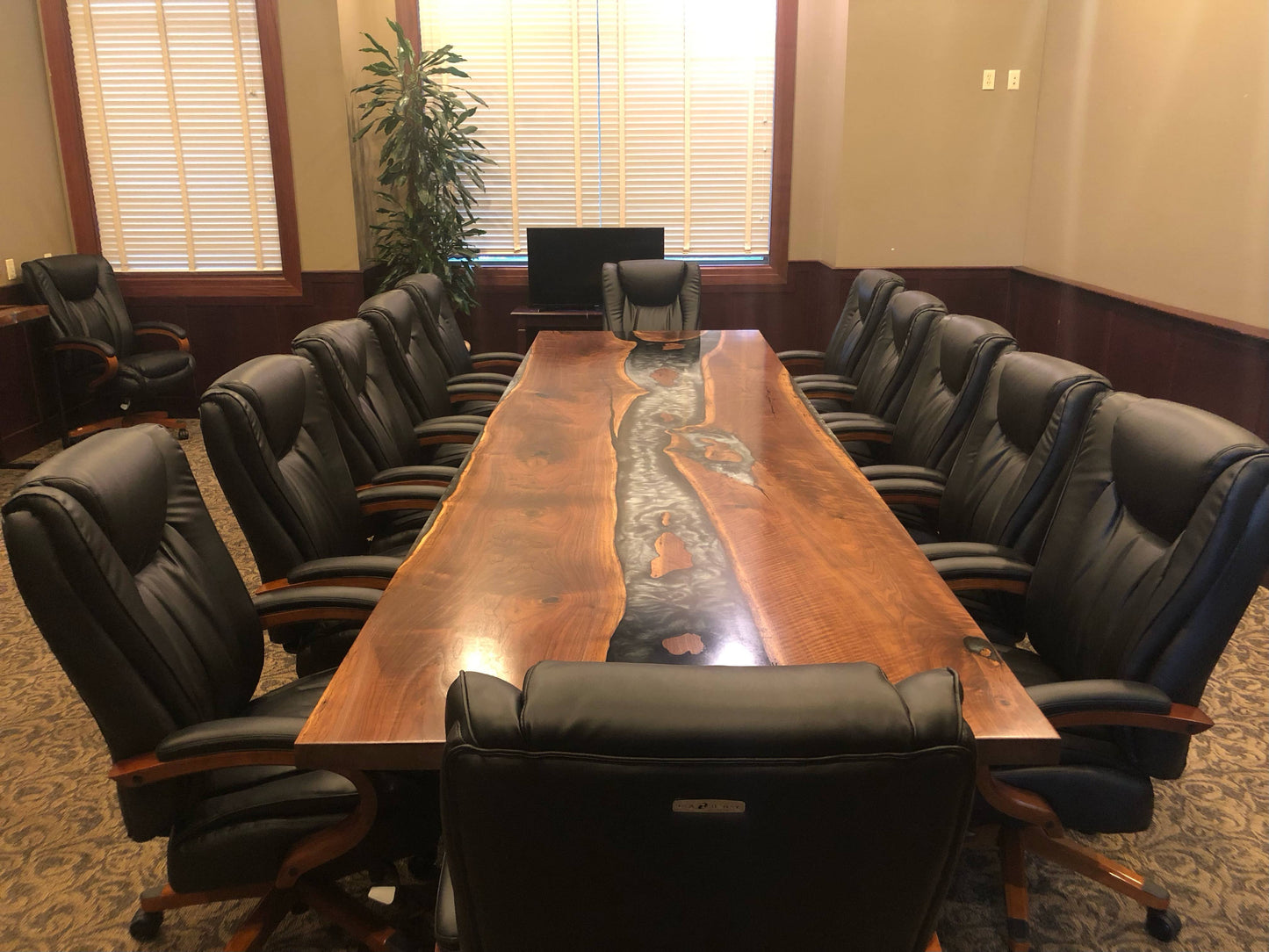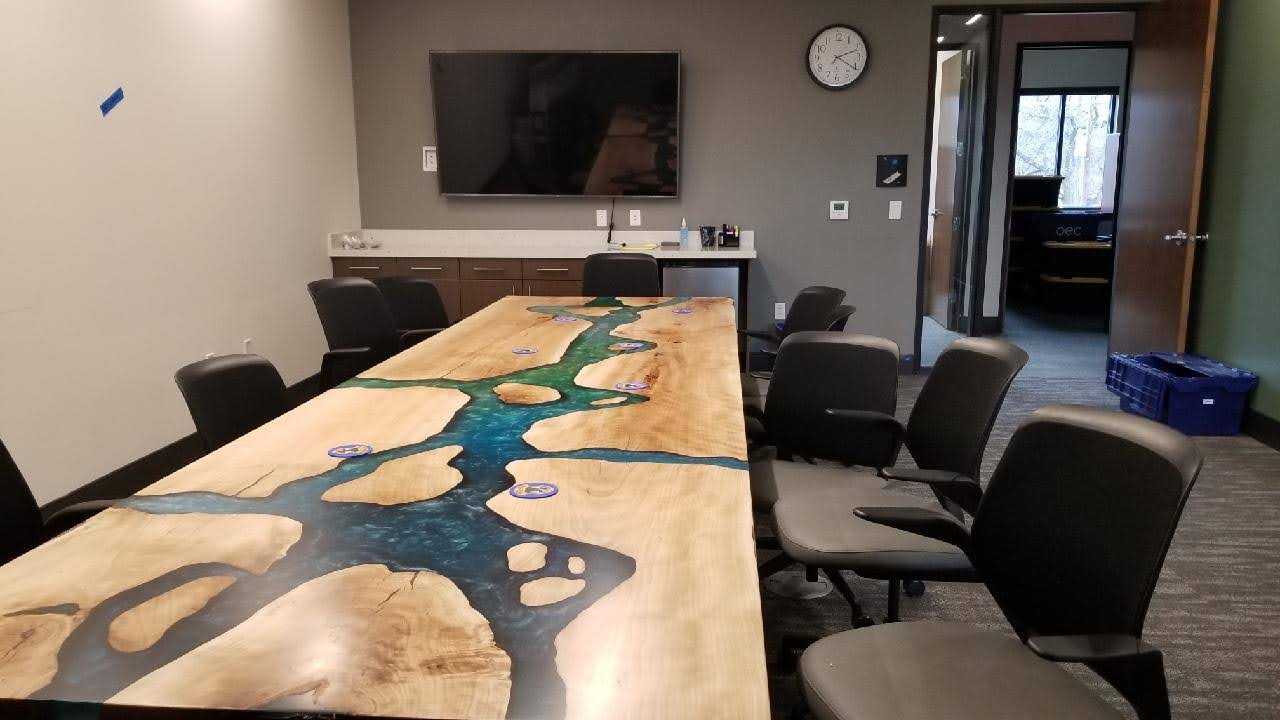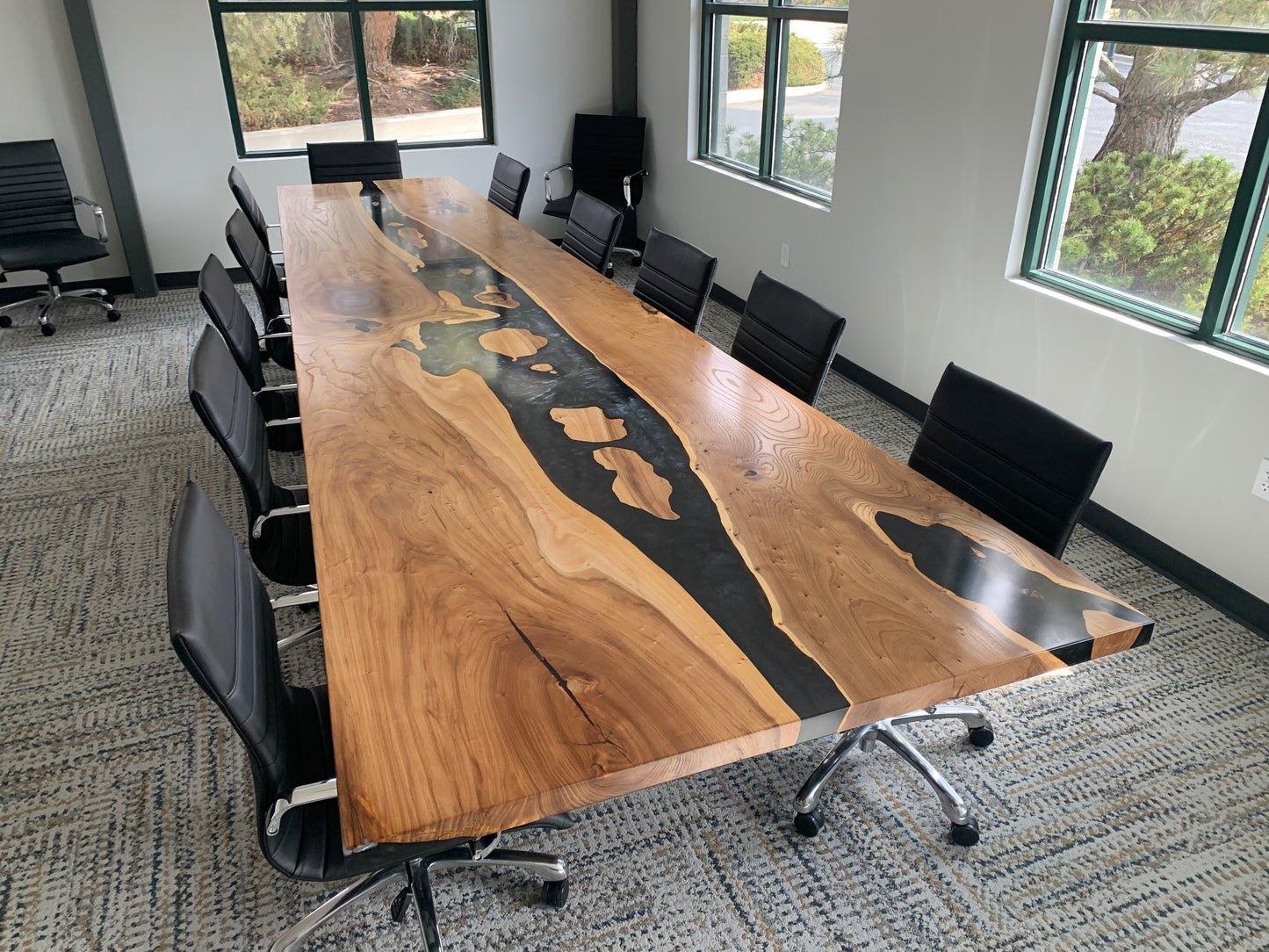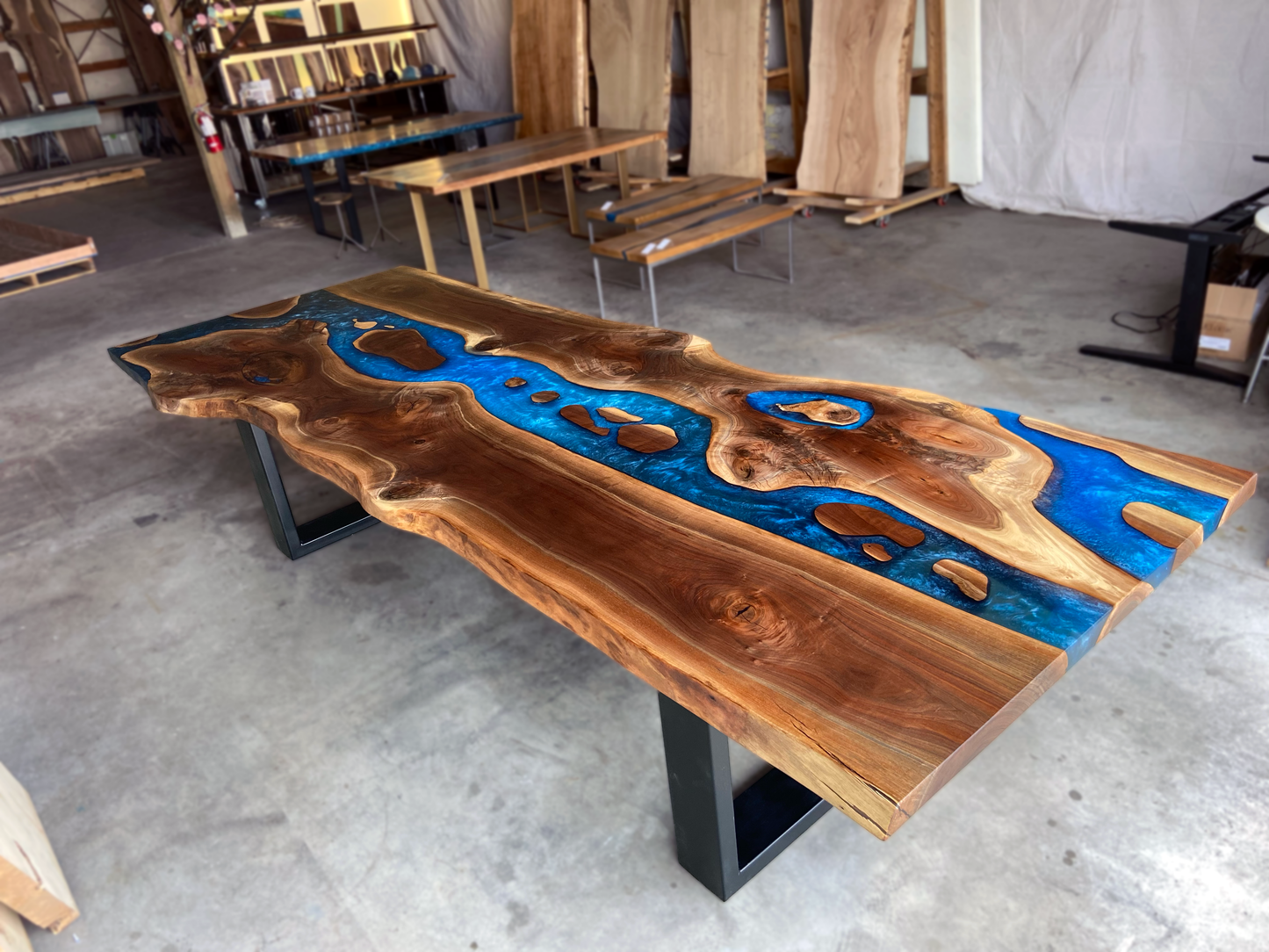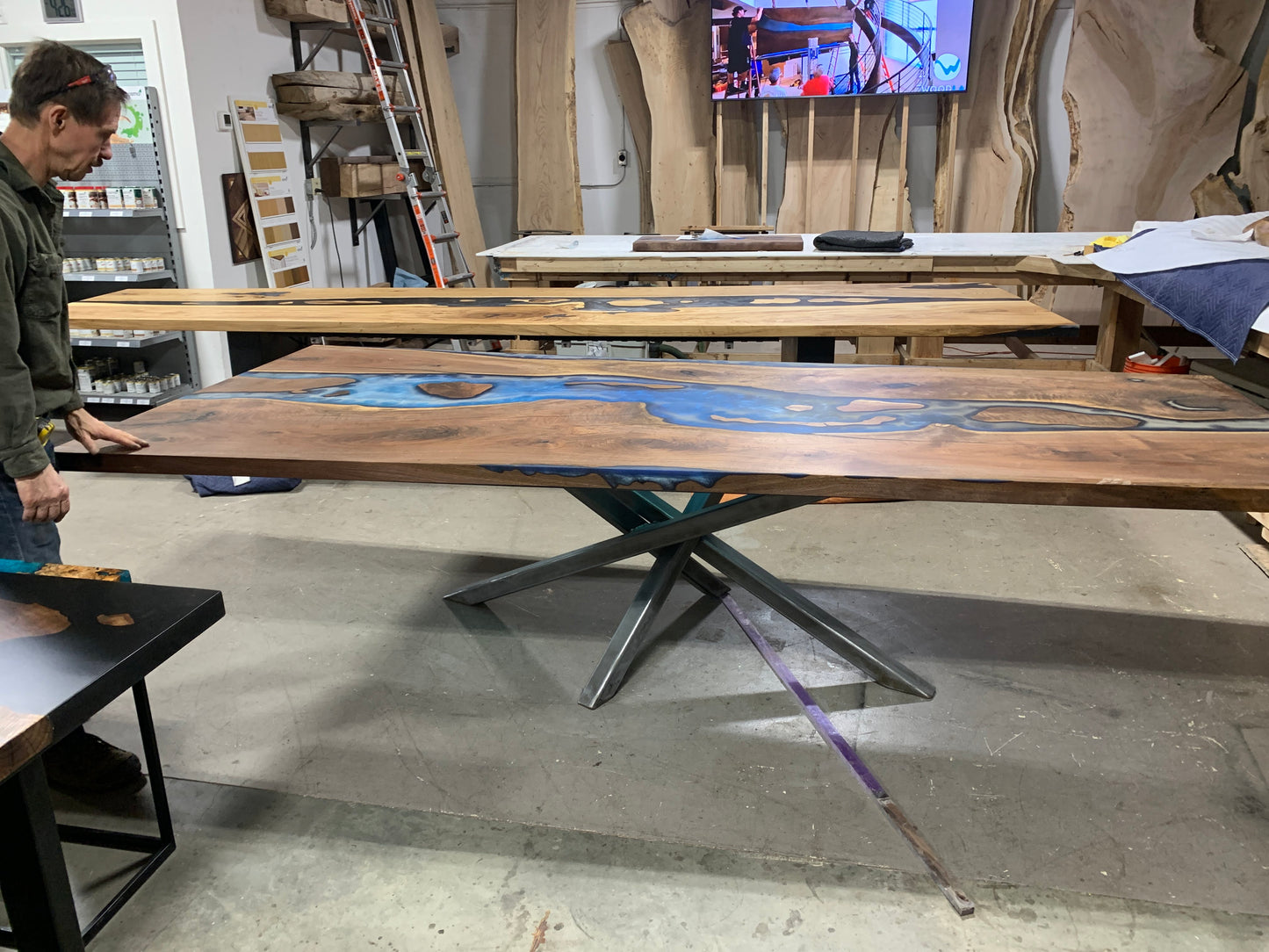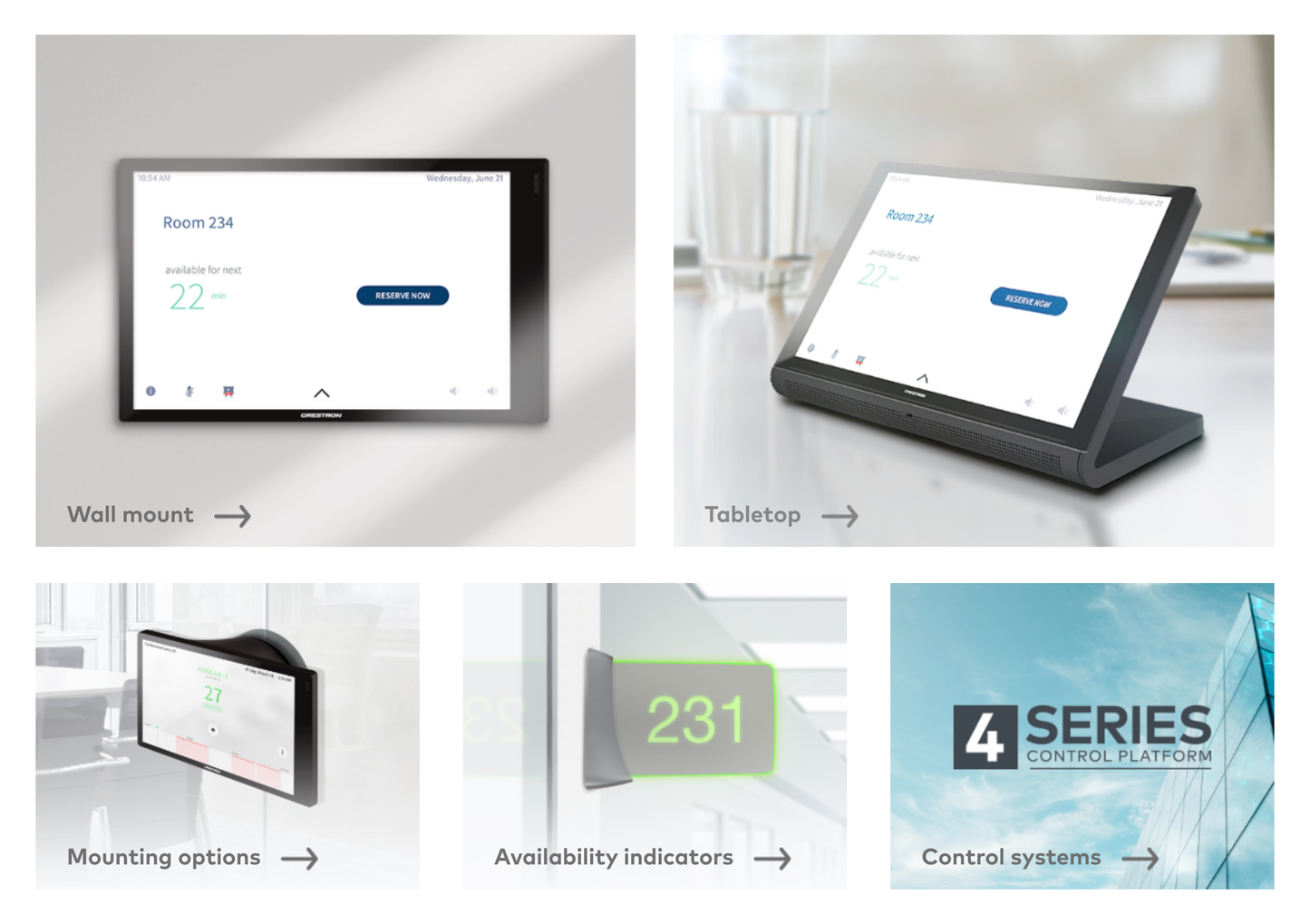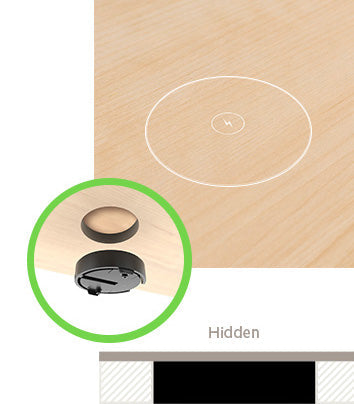 Additional Information
Item Details

Manufacturer: WoodLab

Size:

Weight:

Applications:
Care instructions

Refer to this article for more information.

You can maintain your product to increase its longevity and premiere look. Maintenance should be done only as needed, otherwise there is no interval of time before maintenance should be performed.

 

Maintaining your furniture over time. Using Osmo and white/grey application pads

Here is a list of steps to quickly repair the areas that need some touch-up:

Maintenance of your table top is only required on an as needed basis. If there is nothing wrong with the surface and it looks good, then there is no required annual or other interval routine maintenance. It is just as needed.
In any effected areas that seem discolored, wet, scratched etc., first start with the 400 grit grey sanding pad that is included (which can be purchased at any big box store) and lightly sand the areas that need it. If the areas do not quickly repair and even out, then consider using a 320 grit sand paper and orbital sander, which will remove more material more quickly. You can spot-sand the table surface, or the entire surface as needed.
If you do use a lower grit to remove any effected areas, you will want to work back up through the grits. For example, fi you needed to go down to the 240 grit, you would want to go over top of that area with the 320 grit and then the 400 grit before you apply the finishing oil.
Once you believe the area is sanded to your liking, wipe away any of the sawdust so the surface is now free of any material and ready to be oiled.
Open the can of Osmo 3043 oil and stir thoroughly. Using the white Scotch-Britepad (cut a small 2" ×4" piece off the large pad), dip the pad into the Osmo and lightly coat the white pad. Using as little oil as possible is best.
Gently and evenly, apply the Osmo oil using the white pad to the sanded areas on the table.
Grab a blue paper shop towel and after about 5 minutes since the Osmo was applied, gently buff off the oil that has not absorbed into the wood. Make sure there are no streaks in the surface of the table from residual oil. That's it, you're done! The oil will take about 8 hours to dry.


If you have sanded the affected areas smoothly, the areas that have been repaired should literally have disappeared.

If you do not have one of our care kits for basic repair and maintenance you may order one HERE; or you may clean your product very lightly with distilled water.

If you have any questions whatsoever, feel free to call @ 208.793.0007 or email @

support@woodlab.co

.


Thank you for your purchase of a beautiful WoodLab custom piece of furniture!

For more info,

here

is a general overview video about maintaining an Osmo finish.

Here is the video linked above:
Our Process

The roots (pun intended) of an individual piece are born before the wood ever reaches our shop. While we have always preferred locally-sourced black walnut, we also deal with wood of many species from across the nation. Many are trees that are decades or centuries old, and their legacy continues when they are cut into slabs which we then use for our products and sell directly to customers.

 

Once the wood is milled into the illustrious slabs, it is considered "green" and has to be air-dried. Due to the semi-arid climate of southern Idaho, this typically takes about a year/inch, for example, a 3-inch thick slab would take 3 years to dry. During this process, the wood checks (cracks) as it is drying. It is crucial to properly dry wood so that it does not continue to crack or split once it has been made into a product.

 

After the wood is dry enough, it then goes through a process known as "kilning". The wood is placed in a wood kiln, an isolated chamber where the wood is exposed to extreme heat. This kills off any bugs, insects, or eggs that may be hidden within the wood. Kilned and non-kilned wood are always kept separate - if cross-contamination occurs, bugs could get into the clean wood!

 

Finally, the wood is ready to be used in the shop. The slabs are run through our 52" wide belt sander for flattening, then set aside until used for a project.

Once a slab is selected for use, the bark is removed as it's extremely difficult to work with. It is then laid out and designs are drawn an proposed for a layout. Some slabs are cut and the live edges become the outline of the river, but the design is always unique and wood can be oriented every which way to make the perfect piece come together. 

 

Once the layout is approved, it is then molded up in our pour room. The pieces are laid on a table and clamped into place and/or weighed down to keep the design from shifting. Resin is comparable to water in it's pre-cure state, so every possible leak point and crack has to be sealed in order to prevent the resin from escaping!

We use a variety of materials to make this possible. The pour table surface is made of a thick sheet of High-density polyurethane (HDPE), which prevents the resin from absorbing into the table surface.

HDPE is one of the few materials that epoxy cannot penetrate!

We use starbond, a fast-drying super glue, to keep our wood islands from floating in the resin river. We use silicone to seal the outer edges and seams. It takes silicone about a day to cure, so molding up a large piece can take 2 or more days. Despite all that prep, leaks are still common so we keep an eye on fresh molds.

 

When the table is ready, we then mix up our resin. The thick-pour epoxy we use is mixed in a ratio of 2 parts resin to 1 part hardener. We are able to pour around 2½" thick, so each mold can be done in a single pour. The epoxy is crystal clear, so we mix in metallic pigment flakes specifically engineered to suspend in the resin, giving it a sense of depth and unmistakably beautiful element. For solid colors, we use a liquid pigment instead.

We pour as much as the crest of the river will allow and let it cure. Typically, the resin infiltrates and absorbs into the wood, and we have to watch it, not only for leaks but to top it up as needed. Once we're confident, we let it be. With the amounts of epoxy we use, it takes about 3 days to cure.

 

While the resin absorbs into the wood while curing, that's not the only thing it does. There is a lot of science that happens completely unseen during this time. Bubbles are a common sight. This can come from places where there may be a hole in the wood, and the resin hardens as it fills that space, trapping bubbles in it. Static electricity is also a key contributor to bubbles, which comes from the HDPE plastics. We are innovating to reduce or eliminate the static issue entirely. 

The curing is an exothermic chemical reaction and as such, the resin can get very hot during the process. This temperature usually is for the better- it creates updrafts and downdraft cycles within the epoxy itself, as it rises and cools, then sinks and heats again. This internal current takes the pigment with it, creating the breathtaking designs and swirls all on its own. 

Once the resin is finally cured, we then remove the mold from the table. larger pieces can take 2 or 3 people to carry out of the pour room!

 

We remove excess bits of epoxy and silicone on the edges, then send the hardened piece through the wide-belt sander once more. The wood and resin thicknesses vary greatly, so the whole piece is flattened some until the surface is uniform. 

 

Next, if there are any bubbles, holes or voids the resin didn't manage to fill, we use UVPoxy from ecopoxy, which cures much quicker (24h). This can take several hours just to fill each spot, depending on the depth and number of cavities. The spots are then sanded down with orbital sanders. The Wide-Belt only outputs a grit around 80, so the piece has to be sanded multiple times, each time with a higher grit level. Often, pieces are sanded 4 or 5 times until sanded with 320-grit sandpaper, at which point the surface is smooth enough to properly show the details in the wood.

 

Alongside this production queue, we outsource our legs from local welders. The designs are fabricated and painted as needed, then dropped off at our shop. We align the bolts so that they anchor in the wood and are not seen in the resin, then install the legs securely using as many bolts as will securely hold the table in place. Large or heavy pieces have additional reinforcement to keep the table from bowing, including rails or even a center leg. 

 

The piece is still murky from the sanding, but once we oil it, it springs to life. We use osmo finishes which affect the final tone of the surface. We start with a water-resistant penetrating layer, then the finishing coat which can apply a matte, satin, or gloss look to the piece. Finally, we top the piece with a ceramic coating that provides superior durability while also making the details pop.

Each coat takes about 8 hours to dry, so the post-sanding process takes at least 2 days to perform.

 

With the final coat applied and cured, the piece is ready to go! Spec furniture stays in the showroom and is listed online, while custom projects are either delivered locally or shipped. We thank you for you business and include a care kit with every purchase.